Notes from the Barn
Autumn on the farm...
Probably one of the most anticipated times of the year!
The leaves are hinting at change, and the light is slanting in a new direction--all indications that the seasons are changing from the intense heat of summer to the more genteel temperate nature of fall. It's a time of finishing things, and boy, did we have a lot to finish this year! It's also a time to reflect and be thankful. And, thankful we are for yet another great year here at Stillwaters Farm.


What's NEW at the farm?

Our Cottage was on the receiving end of a mild freshening--just a couple of new items: Outside? A fresh, all-over paint job. Inside? A larger refrigerator, a new, larger kitchen sink, a full-sized range, and some different livingroom furniture. In the bathroom, we added a shower enclosure to please our guests of the...shall we say...more masculine persuasion? Don't worry, ladies, the clawfoot tub is still here!
And, we're in the final stages of renovation for our Airstream Glamper and Bath House. It's a new, cool, and quirky accommodation--and one that will surely bring out your inner "rustic hippie".

Got birthday gifts, sweetheart tokens, or friendship surprises to buy? Why not shop local?
All of our products are handcrafted right here on our farm by our very own certified soapmaker--and you can't get much more "local" or better than that!

Regular shopping at The Silo, our on-farm store, is as easy as ever!
This retail space houses all of our ready-to-purchase farm products--artisanal soaps, soy candles, and much more.

Shopping is BY APPOINTMENT, Monday - Saturday, so call today for yours!












---
What is Stillwaters Farm?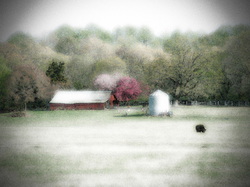 As a growing agritourism enterprise, Stillwaters Farm is first and foremost a "farm stay", boasting the beautiful Cottage, located at the leading edge of the farm. We invite our guests to take a tour, get to know our residents, and jump right in to our daily activities, if they are so inclined. We are also a nature preserve. You will not find any hunting on our premises—unless it's with a camera. As a result, we have plentiful deer, turkey, birds of all kinds, an occasional red fox, and coyote. Our guests are encouraged to bring their cameras along for photo opportunities that happen each and every day. We are also proud to bring our guests to The Silo, our very own on-farm store! Guests check in and out of The Cottage from there, and we invite them to shop for our own handmade goods such as artisanal soaps and soy candles, as well as fine-quality photography and art.

Finally, we are a working hay farm. Ours is a mixed grass hay—with a good percentage of Bermuda along with fescue, legumes, and clover.

Here at the Farm, we'll do our best to keep you updated on the latest happenings . Things will change from time to time, like our cast and crew, so check back to see what...and WHO...is new. Don't forget to check in to see what workshops and events are happening!

As for The Cottage? We will provide up-to-date information on rates, availability, and improvements made along the way.


Take a look around. Feel at home.
Take your shoes off and relax while you browse our pages
to get a real feel for what we're all about!






---